You know, I must say, I never seem to have a plan for my garden beds.
(My garden June of 2009)
I would love to be one of those people who knew exactly how and what they wanted to include in new beds.   I am constantly editing and moving plant around.
(My garden June of 2009)
All of my beds are "overfilled" and a bit wild, but I enjoy that look.  I don't want to see big chunks of mulch….give me blooms!  I have just about every type of blooming perennial that will grow in my area, I swear.  If not, give me a season or two.
(My garden June of 2009)
But there is a small  problem to this garden style of mine… I have almost nothing in the winter to look at.
(My garden June of 2009)
This was from March of last year, it looks even bleaker today, but you get the picture.
(Photo from the web)
I am really inspired by these large displays of texture and color with evergreens blended into the landscapes.  Last fall I added over 20 boxwoods, arborvitaes, hollies, junipers and spruces to the outlaying beds and by the driveway.  But they are all still quite small and it will take quite a few years for them have much impact.
So I feel like I have the evergreen part covered.
I am looking for the "interesting shrubs."
Here are a few that have caught my eye recently.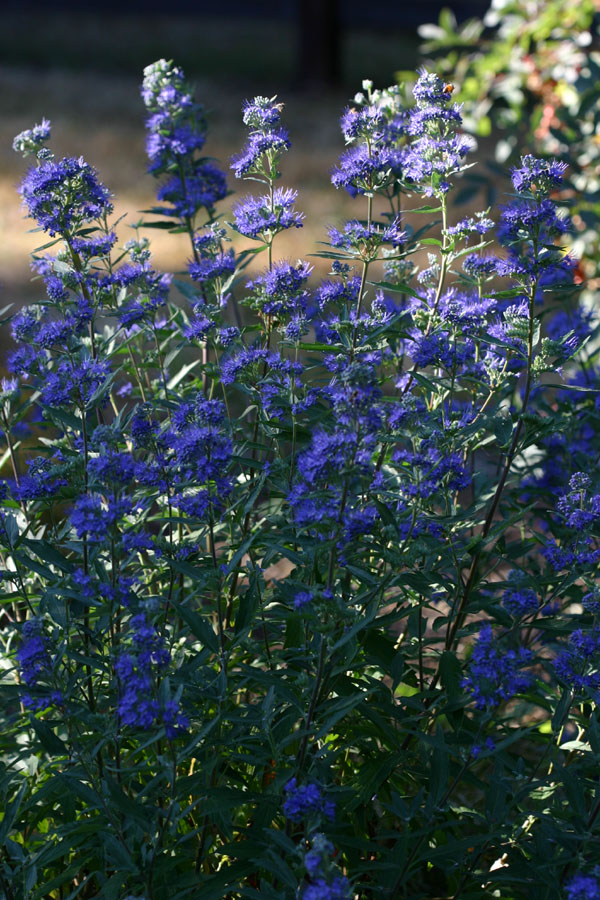 Bluebeard or Blue Mist Spirea "Dark Knight"
(Photo from the web)
I have two of the pink spireas already and enjoy them, but this blue is beautiful.
A pretty shrub that grows to 3 feet tall and has aromatic, grey-green foliage that's a perfect foil for brighter perennials. Flowers are a deep dark blue and bloom for a long time in mid-summer through autumn.
Once established, this shrub needs no attention and can take dry conditions. It blooms prolifically every year. Cut back to one foot in late winter or early spring for best results. The vivid blue flowers attract many bees and butterflies. Zone 5 and up.
Summersweet "Ruby Spice"
(Photo from the web)
(Photo from the web)
Or "Hummingbird" the white variety….they are both very pretty.
Summersweet - Ruby Spice, Clethra alnifolia 'Ruby Spice', is a distinctive true pink that ranks supreme. In early to late July and into August, the plant bears bright pink blossoms on the current season's growth. The flowers are delightfully fragrant and long-lasting, up to six weeks. The plant has glowing yellow fall foliage. This species is high on the desirability list for northern gardeners, but it may need some wind protection in coldest areas. Remarkably tolerant of a variety of conditions, including roadsides and seashores, it prefers moist locations in partial shade, but will take full sun. If necessary, prune in early spring.
I don't think they will be too overly hard to find.  I just really think they would look nice tucked in here and there for longer seasons of interest.
Hopefully I may have given you an idea for your garden as well.
Happy Gardening…..Brooke